DENTAL EXAMINATION & ORTHODONTIC PACKAGE – WORTH 2,000,000 VND, WHAT DOES IT INCLUDE?
Implementing the examination & orthodontic package, customers will be advised by the consulting doctors to perform film X-ray shooting steps, image analysis, from which hiDental dentistry will offer specific and appropriate treatment directions for each customer.
1. . Panoramic shooting (Panorama)
Through the Panorama, we will observe the position of decay teeth, underground teeth, distinguish between teeth that have not been rooted and already treated. Infected or periodontal teeth, lower jaw nerves, sinuses and dentures are also showed fully on Panorama.
2. Tilted skull shooting (Cephalo)
Cephalo X-ray film is very important data in orthodontic (Orthopedics, Orthodontics or Braces).
Especially, straight & tilted skull X-ray film helps assess and forecast the development status of the craniofacial system in children, helps to detect and determine the right time for orthodontic treatment to minimize tooth extraction and maxillofacial surgery in case the craniofacial system has passed the development stage.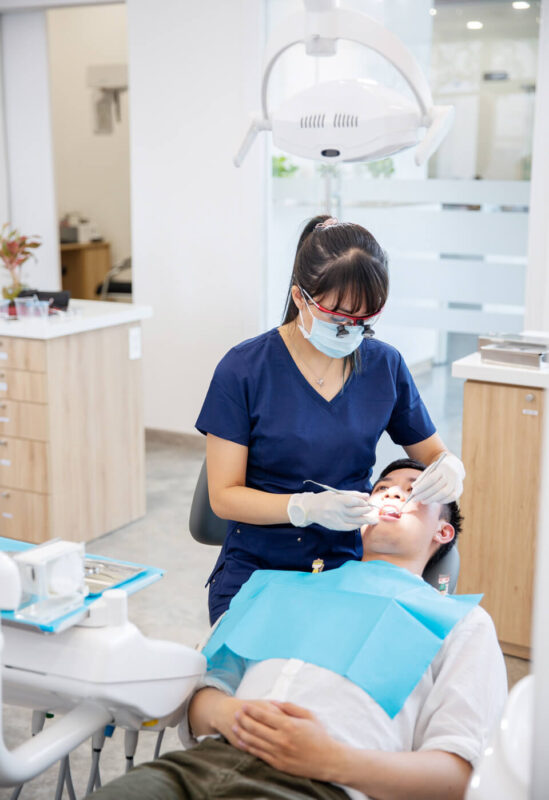 3. Take pictures of outside the face and inside the mouth
Shooting inside & outside the mouth with many different poses to analyze the status of the teeth. From there the dentist will have a more accurate assessment of your condition. This is also an indispensable part of the examination & orthodontic package at hiDental.
4. Taking sign of jaw sample to research
Doctors will take the sign of original jaw from customers to compare with panorama, tilted skull film, from which there is accurate analysis, evaluation and specific treatment direction with each customer.
What are you waiting for without hurrying to register immediately the examination & orthodontic package at hiDental. Our dentist is very pleased to serve you !!!
We currently have many attractive promotions, looking forward to your concern: hiDental promotions