Primary teeth care is a prerequisite for children to have strong permanent teeth later. Parents need to build dental care habits for children as soon as possible, to prevent the child's teeth from being damaged, especially for newly erected permanent teeth. hiDental offers treatment services for children from preventive, curative to original orthodontic.
Prevention is always more effective and simpler than treatment. Specifically, dental problems can cause pain and lead to anorexia & underdevelopment. Children will face a toothache by chewing to the unpainted side, gradually forming a bad habit that causes disproportionate development on both sides of the face. At hiDental, the methods such as applying gel flour to the teeth, tooth fillings by sealant have been proven to be very effective in preventing tooth decay.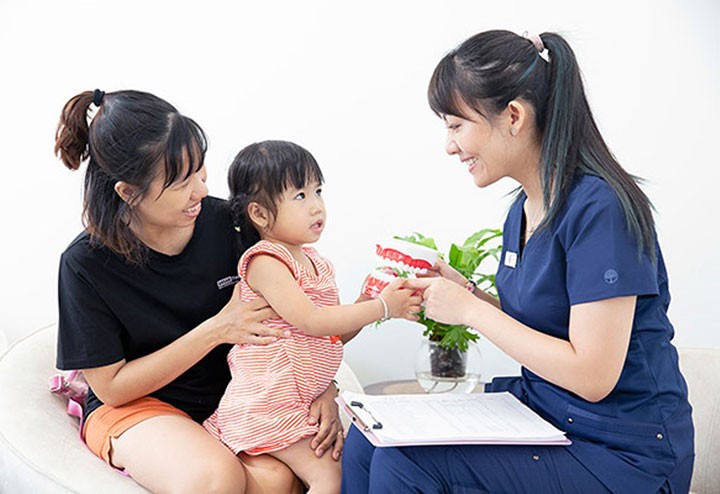 Tooth decay treatment and tooth extraction are most common for children's teeth. At HiDental, a team of young, dedicated and friendly doctors always use the methods that are most suitable for "baby" customers such as anesthesia painless, "tell, show, do" techniques, … The experience we bring to them will make a good first impression on the dentist as well as dental care.
An extremely important issue that hiDental wants to remind you: The fear formed when they were a child can haunt them for whole life, please do not make dentists be one of them. Parents do not take the dentist to intimidate your children, this will make them have a fear mentality even when they have never been to the dentist.
Children should have dental care from their first primary teeth. Early and regular examination help to detect and timely treat dental problems such as tooth decay, deformed teeth, abnormal development of teeth and jaw.
Price:
| | |
| --- | --- |
| Baby teeth | VND 200,000 – VND 1,500,000 (depending on the level of treatment) |